JetPatch Partners with MultiPoint to Expand Presence in Mediterranean Region
Apr 2, 2020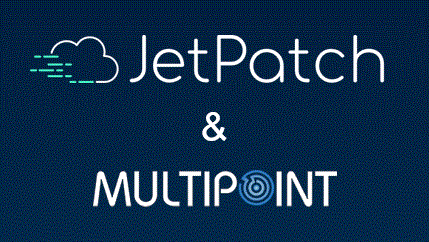 JetPatch Partners with MultiPoint to Expand Use of Automated Patch Management in Mediterranean Region
BOSTON (April 2, 2020) – JetPatch, a next-generation patch management and vulnerability remediation platform, has partnered with MultiPoint, a leading distributor of IT security and internet technology solutions. Together, the companies will expand JetPatch's presence in the Mediterranean region by delivering JetPatch smart patch automation to MultiPoint's partners and customers.
JetPatch lets organizations optimize their patch operations and take a proactive approach in remediating vulnerabilities. JetPatch replaces complex patch management tasks with automated remediation that ensures cyber hygiene and process governance, while freeing up resources to deal with other pressing security issues.
MultiPoint will make JetPatch available to its wide network of more than 300 reseller in 5  countries. The company provides its channel partners and resellers a comprehensive multivendor network of IT solutions, and service-driven training and support.
"JetPatch adds new capabilities to our extensive vendor list, enabling fruitful cooperation across our partner network," said Ricardo Resnik, CEO of MultiPoint. "Software patching is a known challenge among enterprises, and even more so in today's challenging times. JetPatch provides our customer-base with a modern vulnerability remediation solution."
JetPatch takes an innovative ecosystem approach, leveraging an organization's existing security tools, which makes the MultiPoint portfolio a natural selection. By applying machine learning insights, JetPatch is able to predict patching cycle success and to provide preemptive measures to help fix process flaws prior to remediation, thus achieving high operational compliance across IT environments.
"When so many employees are working from home, it is critical to ensure that IT environments are appropriately patched for vulnerabilities," said Shai Toren, CEO of JetPatch. "From the start, we were impressed with MultiPoint's expertise and breadth of portfolio in cybersecurity solutions, including many that JetPatch integrates with. Partnering with MultiPoint enables more organizations to improve their security posture as we accelerate patch automation adoption across the region".
JetPatch and MultiPoint will host a series of webinars for the regional cyber community about the value of automated patch management and how organizations can best leverage it.
About JetPatch
JetPatch automates vulnerability remediation to help enterprises proactively eliminate security flaws and achieve continuous compliance across environments. Learn more at www.jetpatch.com.