Vulnerability Management
As It Should Be
End-to-end automated patch and
vulnerability management
JetPatch enables continuous Continuous patch scanning to ensure your systems are safe and secure

Continuous Security
JetPatch constantly scans for new vulnerabilities and patches and automatically remediates during your already scheduled maintenance windows

Rapid Vulnerability Remediation
Shorten time-to-remediation by quickly discovering new vulnerabilities and patches and deploying them with automated processes

Automated Rollouts
Automatically execute patch rollout workflows by server groups and maintenance windows. Accelerate testing-staging-production cycles, ensuring patches are deployed without errors

Consistent Vulnerability Management
JetPatch establishes a recurring organization and systems vulnerability management process.

Complete Vulnerability Visibility
Eliminate patch blind spots with full vulnerability scans of all servers, OSs and applications -- including those not in CVE or repositories -- and compare installed patches to baseline

Seamless Integration
JetPatch works seamlessly with your existing vulnerability scanners, as well as your ITSM, downtime manager and job scheduler

Centralized Governance
Ensure a consistent patch and vulnerability management process across all environments based on industry best practices

Cloud-Based Vulnerability Management
JetPatch is a SaaS service that is always up-to-date with new vulnerabilities and patches.
A New Approach to Vulnerability Management.
Built for Modern IT.
JetPatch is a cloud-based vulnerability management platform that leverages your existing
patch managers. It uses machine learning technology to optimize patch
rollouts, resulting in more secure systems and shorter downtimes.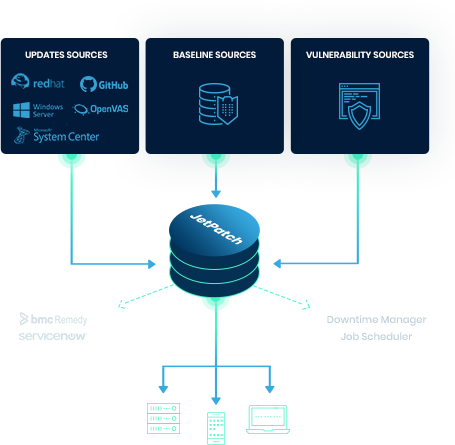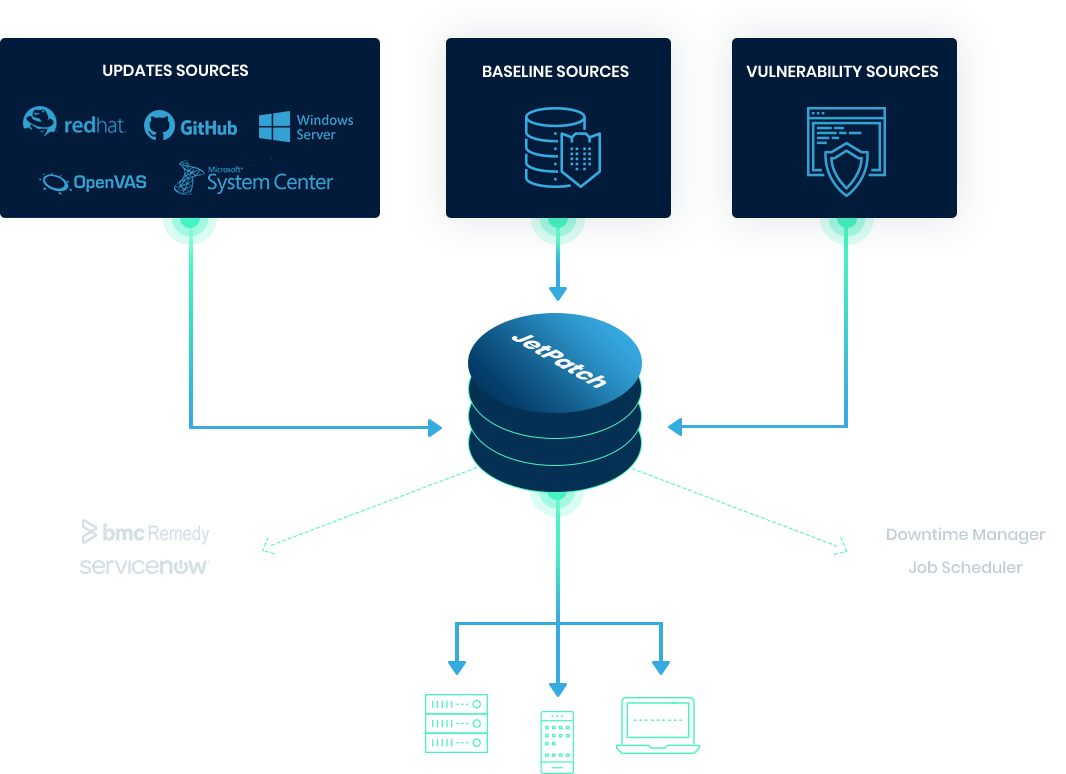 20,832 vulnerabilities were disclosed in 2021.
How are you going to keep up?

Security
Continuously and rapidly remediate vulnerabilities

Simplicity
A menu-driven UI, automation and machine learning

Control
Automated & repeatable process across all environments

Savings
Discard unnecessary tools and save licenses

Visibility
Continuous vulnerability scanning and assessment

Customizability
Create tailor-made patch workflows

Best Practices
Built-in industry best-practices

Cloud
Delivered as SaaS. Always updated
Have It Your Way:
In the Cloud or On-Premise

Install JetPatch On-Premise

Run JetPatch as SaaS



Run JetPatch in the Cloud