Simple, Reliable, and Repeatable Patching for Linux
No more patching Linux servers using time-consuming and outdated processes. Automate and optimize your patch remediation operations across all Linux machines and types.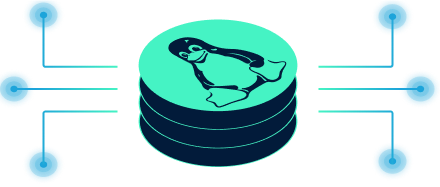 Enable your team to focus on high-value tasks by automating patch remediation for Linux.
Eliminate patching blindspots and speed up your patching operations.
Enhance your organization's security & compliance posture.
RedHat, CentOS, Ubuntu, Oracle Linux, Amazon Linux…we've got you covered!
Supported Across All Linux Platforms
LINUX PATCH MANAGEMENT: AN OVERVIEW
Patch management on Windows servers can be a fairly straightforward process, however, it lacks a sense of variety and customizability. On the other hand, Linux is powerful, stable, built on open source, and almost infinitely customizable. Upgrading your Linux patch management experience is possible by choosing a wide range of Linux flavors. These flavors are known as distributions, and help establish broad and granular control over your environment.
Each distribution has its own pros and cons, and this only increases when it comes to the technicalities of patching and updates. While Windows maintains significant control over its patching process, with Linux, it is not as clear-cut. This distinction is an important one, as fixing bugs and software issues is critical when remediating vulnerabilities.
IS SYSTEM ADMINISTRATION THE REAL CHALLENGE?
In lieu of a rapid increase in Linux servers over the past few years, hackers have shifted their focus to exploiting threats. This has made keeping up with Linux patch management a serious challenge to IT organizations. But with distributions like CentOS, Ubuntu, Oracle and Amazon Linux 2, most Linux servers are fairly secure. This, unfortunately, is not the crux of the problem.
With the sheer complexities that surround Linux patch management, many IT organizations assume the problem lies with "simple system administrator incompetence". A plethora of information and systematic tools do make the process easier, but far from completely optimized.
LINUX PATCH MANAGEMENT CHALLENGES
So why is Linux server patching a complicated endeavor for organizations the world over? Well, for starters, patching on Linux servers include three key phases from an operational standpoint:
Scanning endpoints for missing patches
Downloading patches from vendor sites
Deploying patches to endpoints
Unlike with Windows, where patches are released in a streamlined manner through the Microsoft Security Response Center, with Linux, there are numerous vendor sites to consult. This is especially the case if you're running more than a single distribution, where the timing is nowhere near predictable.
HOW JETPATCH SOLVES ADDRESSES THESE CHALLENGES